We had never knowingly tried scapes before trying what Marita produces (you'll remember her warm and funny voice and story from the very first episode of Chew The Fat which focused on female producers in the Boyne Valley). Scapes have a hefty garlic hit when munched on raw, but the intensity waivers the more they're cooked into sweetness.
This is the type of produce that really inspires us, and is local to us in the bountiful and beautiful food producing region that is Boyne Valley Flavours. Garlic scapes, however short their season is, are really worth seeking out and enjoying in every way you can –– grilled on the BBQ, sliced and flash-fried with Asian dishes, chopped up in a salad or through a quiche. Marita even makes a powerfully punchy pesto with it. Trust us, try these!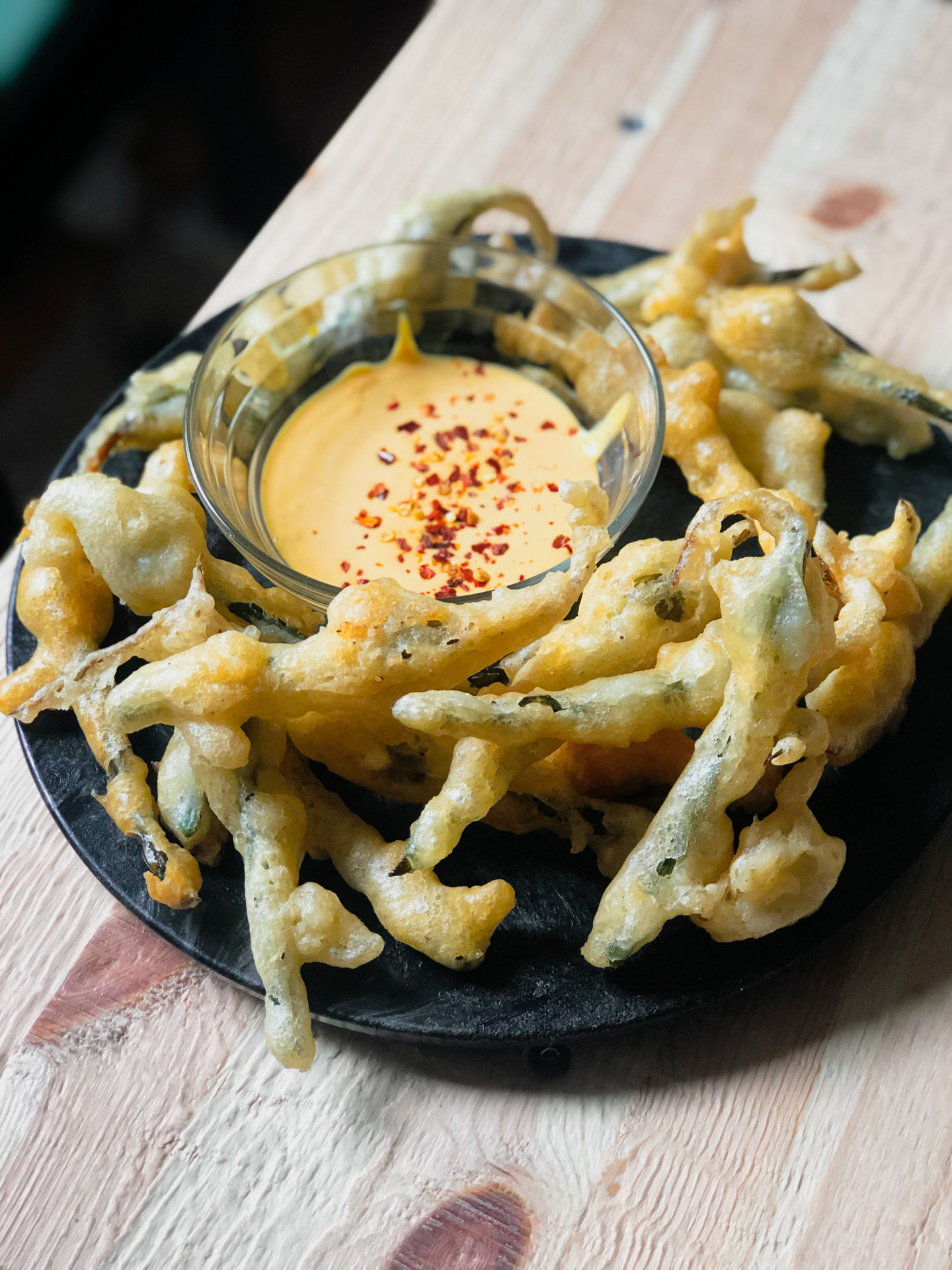 TEMPURA DRUMMOND HOUSE GARLIC SCAPES
100g plain flour
150ml ice-cold sparkling water
1 tsp Oriel Sea Salt
1/2 tsp white pepper
Oil, for frying
1. Pre-heat the fryer to 180ºC, meanwhile prepare your scapes (save the long, green stems for stir-frying, whizzing into a pesto or the myriad other delicious ways to use them)
2. Just as your oil comes to temperature, prepare the tempura batter. The key to tempura is not to over mix the batter –– you want it to be a bit of a lumpy mess and little pockets of unmixed flour are fine. Keep the batter on the thicker side, rather than thin. 
3. Dip the heads in the batter to coat, and immediately introduce to the oil, swirling for a second or two to introduce before dropping in (this will stop them falling immediately to the bottom!)
4. Fry for around two minutes – turning if needed – just until crisp and very lightly coloured. You don't want these to linger in the oil for too long or take too much colour.
5. Dip-dry briefly in the basket before removing to a wire rack on a baking tray with kitchen paper lined underneath to catch the excess. 
6. Eat whilst still warm and crisp, with a dipping sauce of your choice whether that's the usual tetsuyu (soy-based dipping sauce) or a chilli-spiked aioli like we did.